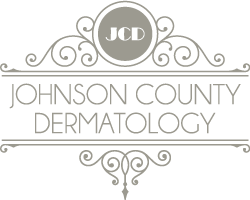 We are open and seeing all scheduled patients. Your on-going dermatologic needs remain our top priority.  We are taking extra precautions to prioritize the safety of our staff and our patients.  Please visit our COVID-19 page for further details.
Please be aware of COVID scams.  We are not sending any links via text or email regarding COVID or COVID waivers.
WELCOME TO JOHNSON COUNTY DERMATOLOGY
comprehensive skin care specialists
J
ohnson County Dermatology has been a fixture in Olathe for over thirty years. Now in its third generation of physician ownership, current owners Doctors Kroh and Tauscher — both board-certified dermatologists — are pleased to continue a legacy of excellent dermatologic care for the patients of Johnson County Dermatology.
We consider ourselves the luckiest dermatologists in the region because of the relationships we maintain with the often multi-generational patients of Olathe and the surrounding communities. The practitioners at our office are dedicated to all aspects of keeping skin healthy.
While our top priority is skin cancer screening we are well-trained and experienced in diagnosing and treating all conditions relating to the skin. Additionally, we understand that skin is a very visible part of one's appearance and are glad to help our patients care for and maintain their skin's vitality.
A
s a practice owned by board-certified dermatologists we are dedicated to remaining up-to-date in our specialty. It should be expected the care you receive at our office will be progressive and based on years of experience in addition to ongoing training. All of the Physicians at Johnson County Dermatology are participating in Maintenance of Certification in Dermatology (www.aad.org/education/moc) to assure delivery of the highest-quality patient care throughout their careers.
The scope of our practice includes care of patients of all ages and encompasses medical, surgical, pediatric and esthetic dermatology.
Skin cancer
Actinic keratoses (pre-cancers)
Benign tumors of the skin such as seborrheic keratoses and nevi (aka moles)
Rashes including lichen planus, eczema, dermatitis and psoriasis
Acne and rosacea
Warts, molluscum and other viral diseases of the skin (including shingles)
Alopecia
Melasma
Fungal infections
Aging skin and facial rhytids
And more
"My son and I had an appointment last week at your office and it was a great experience!  We had been going somewhere else and we weren't happy with the customer service…your office and staff are awesome!"
"I wanted to let you know that I had the BEST experience at your office Monday.  The staff was friendly, helpful and I appreciate that.  Jesse was fantastic as always.  I just wanted you to know that ALL the staff was fantastic! They worked as a team I also noticed. From the moment I walked into your beautiful office I felt welcomed…so thanks to you and your beautiful, friendly staff."
When was your last screening?
When diagnosed in its early stages, most skin cancer can be cured. Therefore, early detection of skin cancer is extremely important. Our dermatologists examine your entire skin surface from your scalp to your toes, searching for suspicious growths, moles, and other changes. Our practitioners will review your family, medical and exposure histories to identify skin cancer risk factors and guide treatment and surveillance recommendations.
If it's been more than a year since your last screening, call us to schedule your screening today.
4 Physicians & 4 Physician Assistants to better serve you
Johnson County Dermatology
151 West 151st Street
Olathe, KS 66061